By Ramin Mostafavi

Military personnel place a flag on a submarine during the Velayat-90 war games by the Iranian navy in the Strait of Hormuz
in southern Iran





TEHRAN (Reuters) - Iran threatened on Tuesday to stop the flow of oil through the Strait of Hormuz if foreign sanctions were imposed
on its crude exports over its nuclear ambitions, a move that could trigger military conflict with economies dependent on Gulf oil.

Western tensions with Iran have increased since a November 8 report by the U.N. nuclear watchdog saying Tehran appears to have
worked on designing an atomic bomb and may still be pursuing research to that end. Iran strongly denies this and says it is developing
nuclear energy for peaceful purposes.

Iran has defiantly expanded nuclear activity despite four rounds of U.N. sanctions meted out since 2006 over its refusal to suspend
sensitive uranium enrichment and open up to U.N. nuclear inspectors and investigators.

Many diplomats and analysts believe only sanctions targeting Iran's lifeblood oil sector might be painful enough to make it change
course, but Russia and China - big trade partners of Tehran - have blocked such a move at the United Nations.

Iran's warning on Tuesday came three weeks after EU foreign ministers decided to tighten sanctions over the U.N. watchdog report and
laid out plans for a possible embargo of oil from the world's No. 5 crude exporter.

"If they (the West) impose sanctions on Iran's oil exports, then even one drop of oil cannot flow from the Strait of Hormuz," the official
Iranian news agency IRNA quoted Iran's First Vice President Mohammad Reza Rahimi as saying.

The U.S. State Department said it saw "an element of bluster" in the threat but underscored that the United States would support the
free flow of oil.

"It's another attempt to distract attention away from the real issue, which is their continued non-compliance with their international
nuclear obligations," spokesman Mark Toner said.

Rahimi's remarks coincided with a 10-day Iranian naval exercise in the Strait and nearby waters, a show of military force that began on
Saturday.

"Our enemies will give up on their plots against Iran only if we give them a firm and strong lesson," Rahimi said.

JANUARY MEETING

Countries in the 27-member European Union take 450,000 barrels per day of Iranian oil, about 18 percent of the Islamic Republic's
exports, much of which go to China and India. EU officials declined to comment on Tuesday.

About a third of all sea-borne oil was shipped through the Strait of Hormuz in 2009, according to the U.S. Energy Information
Administration (EIA), and U.S. warships patrol the area to ensure safe passage.

Most of the crude exported from Saudi Arabia, Iran, the United Arab Emirates, Kuwait and Iraq - together with nearly all the liquefied
natural gas from lead exporter Qatar - must slip through the Strait of Hormuz, a 4-mile wide shipping channel between Oman and Iran.

Iran has also hinted it could hit Israel and U.S. interests in the Gulf in response to any military strike on its nuclear installations - a last
resort option hinted at by Washington and the Jewish state.

However, some analysts say Iran would think hard about sealing off the Strait since it could suffer just as much economically as
Western crude importers, and could kindle war with militarily superior big powers.

"To me, if Iran did that it would be a suicidal act by the regime. Even its friends would be its enemies," said Phil Flynn, analyst at PFG
Best Research in Chicago.


SAUDI REPLACEMENT?


Industry sources said on Tuesday No. 1 oil exporter Saudi Arabia and other Gulf OPEC states were ready to replace Iranian oil if
further sanctions halt Iranian crude exports to Europe.

Iranian Oil Minister Rostam Qasemi had said that Saudi Arabia had promised not to replace Iranian crude if sanctions were imposed.

"No promise was made to Iran, it's very unlikely that Saudi Arabia would not fill a demand gap if sanctions are placed," an industry
source familiar with the matter said.

Gulf delegates from the Organization of the Petroleum Exporting Countries (OPEC) said an Iranian threat to close the Strait of Hormuz
would harm Tehran as well as the major regional producers that also use the world's most vital oil export channel.

Oil prices spiked on Tuesday, fuelled by fears of supply disruptions and Iranian naval exercises in a crucial oil shipping route, with
gains capped by simmering euro zone debt concerns.

Brent crude oil futures jumped more than a dollar to over $109 a barrel after the Iranian threat, but a Gulf OPEC delegate said the
effect could be temporary. "For now, any move in the oil price is short-term, as I don't see Iran actually going ahead with the threat," the
delegate told Reuters.

The industry source said that in the case of EU sanctions, Iran would most likely export more of its crude to Asia, while Gulf states would
divert their exports to Europe to fill the gap until the market is balanced again.

A prominent analyst said that if Iran did manage to shut down the Strait of Hormuz, the ensuing spike in oil prices could wreck the global
economy, so the United States was likely to intervene to foil such a blockade in the first place.

"First, the U.S. will probably not allow Iran to close the Strait. That's a major economic thoroughfare and not just for oil. You shut that
Strait and we are talking a major hit on many Middle East economies," said Carl Larry, president of Oil Outlooks in New York.

"Second, there is no way that the Saudis (alone) have enough oil or quality of oil to replace Iranian crude. Figure Saudi spare capacity
is 2 to 4 million at best. Of that spare, about 1-2 million is real oil that is comparable out of Iran. Lose Iran, lose 3.5 million barrels per
day of imports. No way."

French President Nicolas Sarkozy proposed hitting Iran with an oil embargo and won support from Britain, but resistance to the idea
persists within and outside the European Union.

An import ban might raise global oil prices during hard economic times and debt-strapped Greece has been relying on attractively
financed Iranian oil.

Iran's seaborne trade is already suffering from existing trade sanctions, with shipping companies scaling down or pulling out as the
Islamic Republic faces more hurdles in transporting its oil.

(Additional reporting by Parisa Hafezi in Tehran, Dmitry Zhdannikov in London, Robert Gibbons and Janet McGurty in New York, Amena
Bakr in Dubai, Andrew Quinn in Washington; Writing by Mark Heinrich; Editing by Jon Boyle and Alison Williams)

http://news.yahoo.com/iran-warns-could-stop-oil-flow-sanctions-irna-144548616.html






U.S. Fifth Fleet says won't allow disruption in
Hormuz


Iran plans to practice its use of submarines, surface-to-sea missile systems, torpedoes and drones





















DUBAI (Reuters) - The U.S. Fifth Fleet said on Wednesday it will not allow any disruption of traffic in the Strait of Hormuz, after Iran
threatened to stop ships moving through the strategic oil route.

"The free flow of goods and services through the Strait of Hormuz is vital to regional and global prosperity," a spokesperson for the
Bahrain-based fleet said in a written response to queries from Reuters about the possibility of Iran trying to close the waterway.
"Anyone who threatens to disrupt freedom of navigation in an international strait is clearly outside the community of nations; any
disruption will not be tolerated."


Asked whether it was taking specific measures in response to the threat to close the Strait, the fleet said it "maintains a robust
presence in the region to deter or counter destabilizing activities," without providing further detail.


(Reporting by Humeyra Pamuk and Andrew Hammond; Writing by Joseph Logan; Editing by Louise Ireland)


http://news.yahoo.com/u-fifth-fleet-says-wont-allow-disruption-hormuz-150427092.html



U.S. warns Iran against closing Hormuz oil
route



TEHRAN, Iran (AP) – The U.S. warned Iran Wednesday that it will not tolerate any disruption of naval traffic through the Strait of
Hormuz, after Iran's navy chief said the Islamic Republic is capable of closing the vital oil route if the West imposes new sanctions
targeting Tehran's oil exports.


Iran's Adm. Habibollah Sayyari told state-run Press TV that closing the strait, which is the only sea outlet for the crucial oil fields in and
around the Persian Gulf, "is very easy" for his country's naval forces.


It was the second such warning by Iran in two days, reflecting Tehran's concern that the West is about to impose new sanctions that
could hit the country's biggest source of revenue, its oil sector. On Tuesday, Vice President Mohamed Reza Rahimi threatened to close
the strait if the West imposes such sanctions. In response, the Bahrain-based U.S. 5th Fleet's spokeswoman warned that any disruption
at the strait "will not be tolerated."

The spokeswoman, Lt. Rebecca Rebarich, said the U.S. Navy is "always ready to counter malevolent actions to ensure freedom of
navigation."With concern growing over a possible drop-off in Iranian oil supplies if sanctions are imposed, a senior Saudi oil official said
Gulf Arab nations are ready to offset any loss of Iranian crude. That reassurance led to a drop in world oil prices. In New York,
benchmark crude fell 77 cents to $100.57 a barrel in morning trading. Brent crude fell 82 cents to $108.45 a barrel in London.


Western nations are growing increasingly impatient with Iran over its nuclear program. The U.S. and its allies have accused Iran of
using its civilian nuclear program as a cover to develop nuclear weapons. Iran has denied the charges, saying its program is geared
toward generating electricity and producing medical radioisotopes to treat cancer patients.


The U.S. Congress has passed a bill banning dealings with the Iran Central Bank, and President Obama has said he will sign it despite
his misgivings. Critics warn it could impose hardships on U.S. allies and drive up oil prices. The bill could impose penalties on foreign
firms that do business with Iran's central bank. European and Asian nations import Iranian oil and use its central bank for the
transactions. Iran is the world's fourth-largest oil producer, with an output of about 4 million barrels of oil a day. It relies on oil exports
for about 80 percent of its public revenues.


Iran has adopted an aggressive military posture in recent months in response to increasing threats from the U.S. and Israel that they
may take military action to stop Iran's nuclear program. The navy is in the midst of a 10-day drill in international waters near the
strategic oil route. The exercises began Saturday and involve submarines, missile drills, torpedoes and drones. The war games cover a
1,250-mile (2,000-kilometer) stretch of sea off the Strait of Hormuz, northern parts of the Indian Ocean and into the Gulf of Aden near
the entrance to the Red Sea as a show of strength and could bring Iranian ships into proximity with U.S. Navy vessels in the area.


Iranian media are describing how Iran could move to close the strait, saying the country would use a combination of warships,
submarines, speed boats, anti-ship cruise missiles, torpedoes, surface-to-sea missiles and drones to stop ships from sailing through
the narrow waterway. Iran's navy claims it has sonar-evading submarines designed for shallow waters of the Persian Gulf, enabling it to
hit passing enemy vessels. A closure of the strait could temporarily cut off some oil supplies and force shippers to take longer, more
expensive routes that would drive oil prices higher. It also potentially opens the door for a military confrontation that would further rattle
global oil markets.


Iran claimed a victory this month when it captured an American surveillance drone almost intact. It went public with its possession of the
RQ-170 Sentinel to trumpet the downing as a feat of Iran's military in a complicated technological and intelligence battle with the U.S.


American officials have said that U.S. intelligence assessments indicate the drone malfunctioned.

http://www.usatoday.com/news/world/story/2011-12-28/iran-hormuz-closure/52251414/1




Pentagon: Iranian Disruption of Oil Route 'Will
Not Be Tolerated'



December 28, 2011

| FoxNews.com


http://www.foxnews.com/politics/2011/12/28/pentagon-iranian-disruption-oil-route-will-not-be-tolerated/



U.S. military officials warned Wednesday that any attempt by Iran to disrupt oil shipments at the mouth of the Persian Gulf "will not be
tolerated," as Iran threatened for the second day in a row to interfere with the critical passageway.


Pentagon spokesman George Little describe the route, the Strait of Hormuz, as an "economic lifeline" vital to stability in the region. He
said any attempt to block it would be "problematic."


Meanwhile, a spokeswoman for the U.S. Navy's 5th fleet warned Iran against disrupting shipments in the strait, saying the U.S. Navy
keeps a "robust presence in the region" and is "ready to counter malevolent actions to ensure freedom of navigation."

"Anyone who threatens to disrupt freedom of navigation in an international strait is clearly outside the community of nations; any
disruption will not be tolerated," Fleet spokeswoman Lt. Rebecca Rebarich said.


The warning comes as Iranian officials stand by earlier threats to use the passageway to retaliate if the West imposes new sanctions
targeting Tehran's oil exports over the country's suspect nuclear program.


Iran's navy chief warned Wednesday that his country can close the waterway. "Closing the Strait of Hormuz is very easy for Iranian
naval forces," Adm. Habibollah Sayyari told state-run Press TV. "Iran has comprehensive control over the strategic waterway."


On Tuesday, Vice President Mohamed Reza Rahimi also threatened to close the strait, cutting off oil exports, if the West imposes
sanctions on Iran's oil shipments.


All of this comes at a tense time, as the Iranian navy carries out a 10-day naval exercise that includes dispatching warships and drones
over the vital waterway. The exercises are being carried out on the eastern side of the strait and down into the Gulf of Aden and could
put Iranian ships on a collision course with U.S. naval vessels.


The strait is just 34 miles wide, and about 20 percent of the world's oil shipments pass through.


The mere threat of closing the strait has caused oil prices to rise above $100 a barrel.


With concern growing over a possible drop-off in Iranian oil supplies, a senior Saudi oil official said Gulf Arab nations are ready to offset
any loss of Iranian crude.


That reassurance led to a drop in world oil prices. In New York, benchmark crude fell 77 cents to $100.57 a barrel in morning trading.
Brent crude fell 82 cents to $108.45 a barrel in London.


But a closure of the strait could temporarily cut off some oil supplies and force shippers to take longer, more expensive routes that
would drive oil prices higher. It also potentially opens the door for a military confrontation that would further rattle global oil markets.


The threats underline Iranian concern that the West is about to impose new sanctions that could target Tehran's vital oil industry and
exports.


Western nations are growing increasingly impatient with Iran over its nuclear program. The U.S. and its allies have accused Iran of
using its civilian nuclear program as a cover to develop nuclear weapons. Iran has denied the charges, saying its program is geared
toward generating electricity and producing medical radioisotopes to treat cancer patients.


The U.S. Congress has passed a bill banning dealings with the Iran Central Bank, and President Obama has said he will sign it despite
his misgivings. Critics warn it could impose hardships on U.S. allies and drive up oil prices.


The bill could impose penalties on foreign firms that do business with Iran's central bank. European and Asian nations import Iranian oil
and use its central bank for the transactions.


Iran is the world's fourth-largest oil producer, with an output of about 4 million barrels of oil a day. It relies on oil exports for about 80
percent of its public revenues.


Iran has adopted an aggressive military posture in recent months in response to increasing threats from the U.S. and Israel that they
may take military action to stop Iran's nuclear program.


As the Pentagon warns Iran against taking any action in the Strait of Hormuz, a State Department spokesman said Tuesday that
"obviously there's an element of bluster" to some of the Iranian comments.


Fox News' Jennifer Griffin and The Associated Press contributed to this report.

Read more: http://www.foxnews.com/politics/2011/12/28/pentagon-iranian-disruption-oil-route-will-not-be-tolerated/#ixzz1hr896lWL




Iran warns of closing strategic Hormuz oil
route


Associated PressBy ALI AKBAR DAREINI | AP – 2 hrs 7 mins ago

TEHRAN, Iran (AP) — Iran's navy chief warned Wednesday that his country can easily close the strategic Strait of Hormuz at the mouth
of the Persian Gulf, the passageway through which a sixth of the world's oil flows.

It was the second such warning in two days. On Tuesday, Vice President Mohamed Reza Rahimi threatened to close the strait, cutting
off oil exports, if the West imposes sanctions on Iran's oil shipments.

In response, the Bahrain-based U.S. 5th Fleet's spokeswoman warned that any disruption "will not be tolerated." The spokeswoman, Lt.
Rebecca Rebarich, said the U.S. Navy is "always ready to counter malevolent actions to ensure freedom of navigation."

With concern growing over a possible drop-off in Iranian oil supplies, a senior Saudi oil official said Gulf Arab nations are ready to offset
any loss of Iranian crude.

That reassurance led to a drop in world oil prices. In New York, benchmark crude fell 77 cents to $100.57 a barrel in morning trading.
Brent crude fell 82 cents to $108.45 a barrel in London.

"Closing the Strait of Hormuz is very easy for Iranian naval forces," Adm. Habibollah Sayyari told state-run Press TV. "Iran has
comprehensive control over the strategic waterway," the navy chief said.

The threats underline Iranian concern that the West is about to impose new sanctions that could target Tehran's vital oil industry and
exports.

Western nations are growing increasingly impatient with Iran over its nuclear program. The U.S. and its allies have accused Iran of
using its civilian nuclear program as a cover to develop nuclear weapons. Iran has denied the charges, saying its program is geared
toward generating electricity and producing medical radioisotopes to treat cancer patients.

The U.S. Congress has passed a bill banning dealings with the Iran Central Bank, and President Barack Obama has said he will sign it
despite his misgivings. Critics warn it could impose hardships on U.S. allies and drive up oil prices.

The bill could impose penalties on foreign firms that do business with Iran's central bank. European and Asian nations import Iranian oil
and use its central bank for the transactions.

Iran is the world's fourth-largest oil producer, with an output of about 4 million barrels of oil a day. It relies on oil exports for about 80
percent of its public revenues.

Iran has adopted an aggressive military posture in recent months in response to increasing threats from the U.S. and Israel that they
may take military action to stop Iran's nuclear program.

The navy is in the midst of a 10-day drill in international waters near the strategic oil route. The exercises began Saturday and involve
submarines, missile drills, torpedoes and drones. The war games cover a 1,250-mile (2,000-kilometer) stretch of sea off the Strait of
Hormuz, northern parts of the Indian Ocean and into the Gulf of Aden near the entrance to the Red Sea as a show of strength and
could bring Iranian ships into proximity with U.S. Navy vessels in the area.

Iranian media are describing how Iran could move to close the strait, saying the country would use a combination of warships,
submarines, speed boats, anti-ship cruise missiles, torpedoes, surface-to-sea missiles and drones to stop ships from sailing through
the narrow waterway.

Iran's navy claims it has sonar-evading submarines designed for shallow waters of the Persian Gulf, enabling it to hit passing enemy
vessels.

A closure of the strait could temporarily cut off some oil supplies and force shippers to take longer, more expensive routes that would
drive oil prices higher. It also potentially opens the door for a military confrontation that would further rattle global oil markets.

Iran claimed a victory this month when it captured an American surveillance drone almost intact. It went public with its possession of the
RQ-170 Sentinel to trumpet the downing as a feat of Iran's military in a complicated technological and intelligence battle with the U.S.

American officials have said that U.S. intelligence assessments indicate the drone malfunctioned.

___

Additional reporting from Adam Schreck in Dubai, UAE.
http://news.yahoo.com/iran-warns-closing-strategic-hormuz-oil-route-144219762.html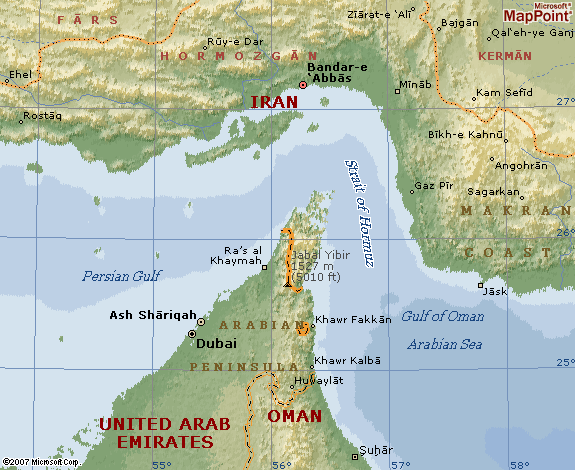 Iran threatens to stop Gulf oil if
sanctions widened